TDS Heavy Towing & Recovery Inc. is a division of Tommy's Diesel Shop Inc., which has been in business since the early '70s. Today both companies, as well as Billman Trucking Inc., are housed in a modern, spacious 10,000-square-foot facility on 18 acres in New Point, Indiana. The companies are all owned by Jerome C. Billman and/or Ryan M. Kegley.
Tom's Diesel Repair and Wrecker Service was started by Tom Tellas. In 1998, after the death of Tellas, it was purchased and renamed Tommy's Diesel Shop. Today it serves as the premier heavy truck repair facility in Southeastern Indiana.
We're also your best source for towing and recovery, in th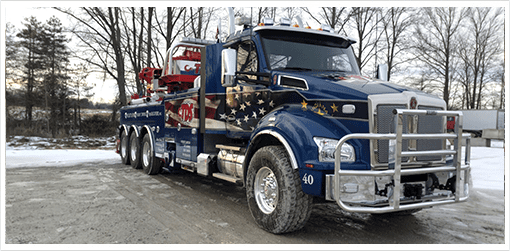 is area. We are your neighbors as well. Our companies have supported our community for many years, sponsoring and participating in local city and school events, fairs, parades, livestock auctions and more.
We provide towing and recovery, maintenance, and service inspections for numerous EMS and Fire Departments. We also participate with fire departments in life-saving vehicle rescue/extrication training.
Certifications
WreckMaster Certified Operators
TRAA Certified Operators
The American Towing & Recovery Institute Certified Operators
TIM Certified Operators (Indiana IN-TIME)
OSHA Certified in Overhead Lifting & Rigging
OSHA Certified Forklift Operators
Haz-Mat Endorsed Commercial Drivers
Affiliations
Indiana Police Heavy Wrecker Rotation
Indiana Department of Transportation

Indiana Towing & Wrecker Association Member
Providing 24 Hour Service to the Following Indiana Roadways:
and all of Southeastern Indiana